US hostage Kassig's mother appeals to IS leader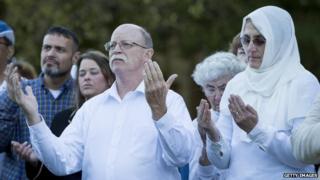 The mother of a US hostage has appealed to the leader of the Islamic State (IS) militants to get in touch with her.
Paula Kassig posted a letter on Twitter, for Abu Bakr Al Baghdadi, asking how he can be reached.
"I am an old woman and Abdul Rahman is my only child," the message reads. "My husband and I are on our own."
It follows the release of an IS video last week which showed the beheading of British aid worker Alan Henning and ended with a threat to Mr Kassig.
Abdul-Rahman Kassig, known as Peter Kassig before he converted to Islam, is an American aid worker who was captured in Syria last year.
Following Ms Kassig's tweet that her family was receiving "no help from the government", US state department spokeswoman Jen Psaki told reporters much was being done to secure Mr Kassig's release.
"We are using all of our military, intelligence, law enforcement and diplomatic capabilities to bring Peter home," she said. "All US tools are being brought to bear."
Last week, the Kassigs released a video appealing to IS militants to "show mercy" on their son and release him.
---
Analysis: Paul Wood, BBC News
Abdul-Rahman Kassig, 26, always cut a slightly unworldly figure on the Turkish-Syrian border: open, honest, slightly intense, beguiled by Syria's uprising and motivated by the simple desire to help people.
It didn't surprise me when his parents later spoke about him "searching for his place in the world".
He found that place giving medical training to Syrians, teaching skills that probably saved a number of lives.
Kassig 'a very dedicated Muslim'
---
They said he had been working for the relief organisation he founded, Special Emergency Response and Assistance (SERA), when he was captured a year ago on his way to Deir Ezzour in eastern Syria.
Prayers were held on Wednesday at Butler University in Indianapolis, where Mr Kassig was a student from 2011-12.
Members of the Muslim community were among the nearly 300 people gathered as passages from the Quran were read and speakers urged the captors holding Mr Kassig to set him free.
In addition to Henning, IS militants have released videos showing the beheadings of American reporter James Foley, American-Israeli journalist Steven Sotloff and British aid worker David Haines.
The group - which may hold many more hostages - has its roots in al-Qaeda's Iraqi affiliate but was expelled over its brutal tactics and refusal to obey orders to confine its activities to Iraq.
It grew more powerful amid the three-year civil war in Syria, launching a lightning offensive this summer that captured considerable territory in both countries.