Vigil held for Ebola victim Thomas Duncan's family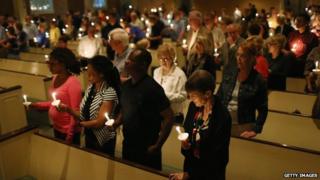 A prayer vigil has been held for the family of Thomas Eric Duncan, the first person diagnosed with Ebola in the US who died on Wednesday.
Hundreds attended the Dallas church service to mourn and pray for the health of those in contact with him.
A sheriff's deputy who entered the apartment where Duncan was staying has been hospitalised after falling ill.
The virus has killed 3,865 people, mostly in Liberia, Sierra Leone and Guinea, in the worst outbreak yet.
A top US medical official on Thursday said it was unlike anything since the emergence of HIV/Aids.
Tom Frieden, the director of the Centers for Disease Control and Prevention (CDC), told a high-level World Bank forum that a fast global response could ensure that it did not become "the next Aids".
At the weekend, passengers arriving in the US from West Africa will undergo new screening measures.
The death of Duncan has left his fiancee, Louise Troh, in despair as she remains in mandatory isolation.
"My family is in deep sadness and grief," Ms Troh wrote in a statement. "Eric was a wonderful man who showed compassion toward all."
Ms Troh and Duncan's extended family have been ordered into isolation after having direct contact with the Ebola-infected man.
Forty-eight people who came into contact with him, not counting the quarantined Dallas County deputy, are being monitored by health officials.
Duncan's body will be cremated to prevent further exposure - upon recommendation from the Centers for Disease Control and Prevention (CDC) - and returned to the family.
Meanwhile, Michael Monnig, a Dallas sheriff's deputy, has been transported to an area hospital for observation after complaining of a stomach ailment.
Mr Monnig did not have direct contact with Duncan, but did go into the apartment where the Liberian national had been staying while displaying symptoms of the virus.
Also on Wednesday, US officials announced plans for passengers from Liberia, Sierra Leone and Guinea to have their temperatures taken and answer questions before entry.
The new measures will begin at New York's JFK airport this Saturday, and at O'Hare in Chicago, Newark in the New York area, Washington's Dulles and Atlanta's airport some time next week.
Customs and Border Protection (CBP) will dispatch staff to these five airports, which account for 90% of travellers to the US. As many as 160 people enter the US from those countries each day.
President Barack Obama said the new security measures would "give us the ability to isolate, evaluate and monitor travellers as needed, and we'll be able to collect any contact information that's necessary".
But the World Health Organisation has questioned the effectiveness of screening, saying "the use of thermal scanners that rely on the presence of 'fever' in arriving passengers is costly, unlikely to detect any arriving person infected with EVD and is not encouraged".
Duncan was not showing symptoms when he arrived in the US in 20 September so would not have been detected by any screening process.