Trial date set for NFL star Adrian Peterson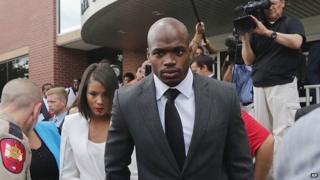 A trial has been tentatively scheduled for December for an American football player accused of hitting his young son with a tree branch.
A Texas judge set a trial for Adrian Peterson, a running back for the National Football League's Minnesota Vikings, for 1 December.
Mr Peterson has been charged with felony child abuse in the discipline of his four-year-old son.
He is on paid leave from the team pending resolution of the case.
"The only way to get this solved is to have a quick and speedy trial," Mr Peterson's defence attorney Rusty Hardin told US media.
'Loving father'
Montgomery County District Attorney Brett Ligon has indicated he will seek to have Judge Kelly Case removed from the case after he allegedly called lawyers in the high-profile case "media whores".
A hearing has been set for 4 November to determine if a new judge will be assigned to the case.
The alleged incident took place in the town of Spring, Texas, in May.
The footballer is said to have punished his son after he pushed another of his children off a motorbike video game.
The "whooping" - how Mr Peterson allegedly referred to the incident in a police interview - resulted in cuts and bruises to the boy's back, buttocks, legs and scrotum, local media have reported.
Mr Hardin has described his client as a "loving father" who had "used the same kind of discipline with his child that he experienced as a child growing up in east Texas".
"It is important to remember that Adrian never intended to harm his son and deeply regrets the unintentional injury," he added.