US judge unseals Guantanamo Bay force-feeding tapes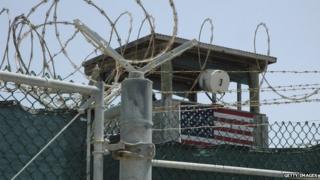 A US judge has ordered the government to release videotapes depicting a Guantanamo Bay prisoner being force-fed while on hunger strike.
US District Court Judge Gladys Kessler granted a request from a number of media organisations for their release.
The videos show Syrian prisoner Abu Wa'el Dhiab being forcibly removed from his cell and fed.
But the tapes will remain sealed until some information, including faces and voices, has been redacted.
"We are very gratified by this decision, which will enable the American people to see with their own eyes the sorts of abuses that are being heaped on these peacefully hunger-striking detainees," Mr Dhiab's lawyer Jon Eisenberg told the Associated Press news agency.
"Once the truth is fully brought to light, we believe these terrible practices will come to an end."
Mr Dhiab has been held at the Navy-run prison in Cuba since 2002.
A request for the tapes was made in June by numerous media outlets, including the Associated Press and the Guardian.
Judge Kessler granted the request on Friday but has withheld the tapes until identifying information of others seen on them could be obscured.
The judge has also rejected a request by US President Barack Obama's administration to close a hearing on Mr Dhiab's case, initially scheduled for Monday.
Last year, the Cuban prison had the longest hunger strike in its history, with more than 100 detainees refusing food.
Thirty-six people were reportedly tube fed and five hospitalised as part of protests against the conditions in the prison.
Mr Obama has faced continuing pressure to close the jail and make alternative arrangements for detainees.