Florida music row shooter guilty of murder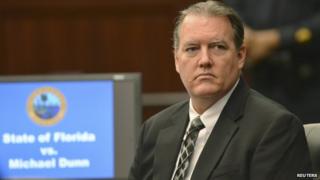 A man who shot dead a teenager during a quarrel over loud music in Florida has been found guilty of first-degree murder in a retrial.
Prosecutors said Michael Dunn fired 10 times into the vehicle of Jordan Davis, 17, with intent to kill after losing his temper at a petrol station.
Dunn argued he was acting in self-defence but police did not find a gun in the car the teenager was in.
The jury reached its verdict after more than five hours of deliberation.
It was the second trial for Dunn after the first jury was deadlocked in February on a first-degree murder charge.
Dunn faces a mandatory life sentence after authorities opted not to seek the death penalty in the case.
On the evening of 23 November 2012, he and his fiancee parked at the petrol station in Jacksonville, Florida, after attending his son's wedding.
Davis and three other teenage boys, all African American, had stopped at the same place after visiting a shopping mall.
Dunn, a software developer, earlier testified that the music blasting from the boys' sport utility vehicle, next to his, was so loud it hurt his ears.
He said he asked them cordially to turn it down, and they did. But Davis, sitting in the back, ordered his friend in the front seat to turn the music back up.
Then, Dunn testified, Davis became verbally abusive, called him a "cracker", a derogatory word for a white person, and threatened his life.
Dunn claimed the teenagers inside the vehicle wore "menacing expressions".
He told the court he wanted to calm the situation but that he saw Davis reach down for something that looked like the barrel of a shotgun.
Dunn reached into his glove box, withdrew a pistol and fired at the vehicle, killing Davis.
He is said to have failed to call first responders after the shooting, and returned to his home in Satellite Beach until authorities called him.
After the verdict, the parents of Jordan Davis said justice had been done.
"Words cannot express our joy, but also our great sorrow, because with the verdicts of all counts being guilty for Michael Dunn, we know that Jordan has received his justice," said mother Lucia McBath.