California Mayor Crespo shot after row with wife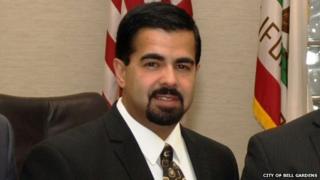 The mayor of a California suburb has been fatally shot at home and his wife taken into custody.
Los Angeles County sheriff's Deputy Crystal Hernandez said that Mayor Daniel Crespo, 45, got into an argument with his wife, Levette Crespo.
She is thought to have shot her husband after the couple's 19-year-old son tried to intervene, said the officer.
Crespo was mayor of Bell Gardens, a suburb of Los Angeles, and a city council member for more than a decade.
The couple - high school sweethearts - married in 1986 and Crespo worked as a Los Angeles County probation officer in addition to his duties as mayor.
He was reportedly shot several times and later died en route to the hospital.
Crespo was elected to the City Council in 2001. The mayor's post is rotated among council members.