Luka Magnotta murder trial begins in Montreal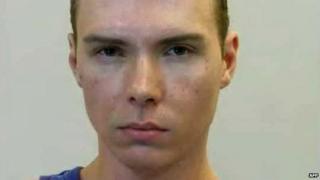 A Canadian man has admitted killing his lover and sending parts of his body in the post to political figures.
However, Luka Magnotta, 32, pleaded not guilty to five charges related to the 2012 death of Jun Lin, a Chinese university student, including murder.
On the first day of his trial, Mr Magnotta's lawyer said he was mentally ill, and the judge said jurors would have to determine his state of mind.
He faces a life prison sentence if convicted on all charges.
The trial start was delayed amid a crowded court calendar and difficulty selecting jurors.
Nearly 1,600 people were interviewed to fill a 14-person bilingual jury that includes two alternates.
Mr Magnotta's lawyer, Luc Leclair, said he had sought jurors who were open-minded and willing to listen to the case, broadcaster CTV reported.
"He's been waiting a long time," Mr Leclair said. "There was a time that we never thought this day would come."
Prospective jurors were asked during the panel selection whether they would be able to handle graphic and disturbing evidence.
Police began their investigation after finding a headless torso near Mr Magnotta's Montreal flat in late May 2012.
Soon after, limbs were found in the post sent to Prime Minister Stephen Harper's office and to the Liberal Party's office.
Lin's body parts were also later revealed to have been mailed to two British Columbia schools. His head was found in a Montreal park.
Investigators also found a video posted online thought to show Lin's murder.
Mr Magnotta fled to Europe, prompting an international manhunt that ended when he was arrested in an internet cafe in Berlin.
He is charged with first-degree murder, committing an indignity to a body, publishing obscene material, mailing such material, and criminally harassing Prime Minister Stephen Harper and other members of parliament.
The prosecution may ask the jury to find Mr Magnotta guilty of second-degree murder or manslaughter if they cannot prove Mr Magnotta intentionally killed Lin and planned the murder in advance.
Mr Leclair said the defence would make the case that the accused was mentally ill.
"A person is not responsible if he or she suffers from a mental disorder at the time of the act," he said.
The trial is expected to last four to six weeks. About 60 witnesses are expected to be called.
Lin, who was enrolled as a computer science and engineering student at Concordia University in Montreal, was from the city of Wuhan in China.
His father, Diran Lin, will attend the trial.