Denver drug ring 'sold methamphetamine from taco truck'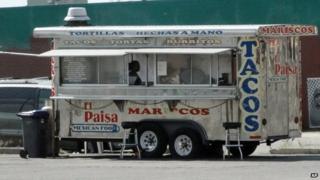 Police in Denver have charged 17 people in connection with a drug ring accused of selling methamphetamine and cocaine, including from a taco truck.
"Operation Cargo" seized 55lb (25kg) of meth in one of the largest hauls in the state of Colorado's history.
Alleged ring members ordered the drugs into California from Mexico, then drove them to Denver, officials said.
Police said one of the gang sold meth out of her taco truck, using the code words "six pack" and "yellow cups".
'Side of meth'
"The brazenness of this ring was astounding," said Colorado Attorney General John Suthers.
"Customers could literally walk up to a food truck and order a side of meth with their taco."
Federal and local police conducted wiretaps over five weeks to monitor gang activity.
During their surveillance operation, they discovered a complex array of stash houses and at least one storage unit allegedly used to peddle drugs, prosecutors said.
Juan Carlos Gonzalez, 37, is accused of being the ringleader.
One of the people to whom he distributed the drugs was his aunt, Maria Arellano, 39, who sold meth from the taco truck in which she worked, prosecutors said.
Guns and money were also seized in the operation.
The gang members have also been charged with tax evasion and racketeering.
All but two of the suspects are in custody.