Syria air strikes: Reaction from small town America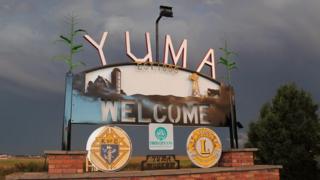 At the Main Event Bar and Grill in Yuma, Colorado, on Tuesday morning, locals took their usual tables to eat breakfast and talk, as country music played over the speakers.
The crowd was a mix of farmers, ranchers and retirees, many of whom have spent their whole lives in the tiny town (population 3,500) on the plains in the eastern part of the state.
While some of the bar's televisions showed sport highlights, several were tuned to Fox News, with talking heads analysing the previous night's air strikes against Islamic State (IS) forces in Syria.
"Either just let them wipe themselves out or drop a bomb on them and have it all over with," says a man in a Marine Corps hat upon entering the restaurant. "Just nuke 'em. Get it done."
As images played of US Navy ships launching missiles in the dark of night, the restaurant's patrons wondered what it all meant and what Barack Obama would say when he addressed the nation later that morning.
At a little after 8:00 local time, the president spoke. For many of the restaurant patrons, a predominantly conservative crowd in a solidly conservative portion of the state, there was not much love lost for the Democrat.
"Everything that he says is a damned lie," says Bill Brethauer, a local retiree who watched the address from a barstool. "I've got no use for him whatsoever."
According to Mr Brethauer, the current Islamic State uprising is a direct result of the US pullout from Iraq - a belief held by many in the room.
He says you don't have to be an "Einstein to figure that out."
There was also a feeling that US action was overdue.
"We should have gone in a long time ago and taken them out," says Barbara Miller, the Main Event's owner. "I don't want to see Christians and Jews beheaded. This is horrible. This is an act of terrorism. We should be protecting the innocent people."
The US experience in Iraq also looms large for others - but for different reasons. They worry about the consequences of renewed US intervention in the region.
"I think we ought to be careful about what we're getting into again," says Marty Brophy, who works for a farming bank. "On the other hand, we can't let other countries just run over people, I guess. I'm still sceptical about getting involved."
For retiree Bob Seward, a self-professed Democrat ("a lot of us are undercover", he notes), Mr Obama had no choice but to act - but he should limit US involvement to bombing, not troops on the ground.
"Someone had to do it," he says. "I feel like we've got to help the Syrians."
Then there was doubt about how the media are portraying the news and whether the public was getting the full story.
"It depends on where you're getting your information on what kind of opinion you're going to have on that," says Joe Newton, a local rancher.
"To an outsider looking in you'd think: 'Oh, that's a good thing, these IS guys need stopped'. But there's a lot more to it than that."
Over the next six months, a team of BBC journalists will explore US, setting up a mobile bureau for a month in six very different regions of the country. This month, they are based out of Boulder, Colorado. For more information, visit BBC Pop Up online.