Missing Afghan soldiers found at US Canada border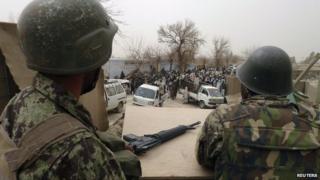 Three Afghan soldiers who went missing after a military exercise have been found, US media have reported.
Law enforcement officials told WCVB TV the men were taken into custody at the Rainbow Bridge Canadian US border crossing near Niagara Falls on Monday.
The three were among 14 members of the Afghanistan National Army participating in the tactical exercise.
The men disappeared from a Cape Cod shopping mall on Saturday night, US military officials said.
The week-long annual exercise involves 200 soldiers from six nations and is aimed at fostering better relations.
The soldiers were identified as Maj Jan Mohammad Arash, Capt Mohammad Nasir Askarzada and Capt Noorullah Aminyar.
It was the second time in a week that Afghan soldiers attending a course in the United States went missing.
A week ago, two Afghan soldiers training at the Quantico base in Virginia were unaccounted for until they were located two days later in the Georgetown district of Washington, officials said.