Craigslist killers Miranda and Elytte Barbour get life term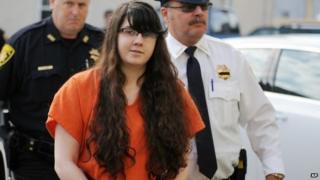 A newlywed couple who killed a man after luring him with an advert on the website Craigslist have been sentenced to life in prison without parole.
A Pennsylvania judge told Miranda and Elytte Barbour, 19 and 22 respectively, that they must be permanently removed from society.
They pleaded guilty last month in a deal to spare them the death penalty.
Neither showed any emotion in court as the victim's relatives expressed anger and pain over the slaying.
Elytte Barbour apologised to the family of Troy LaFerrara, but said he could not explain his actions.
LaFerrara's sister Holly, said if it was up to her, they would have both been executed, according to the local newspaper The Daily Item.
"You will not find any forgiveness here...Your selfish, attention-seeking, malignant behaviour is the root cause of everyone's torment," she said.
LaFerrara was killed in November 2013 after responding to ad placed by Miranda Barbour offering companionship for money.
She stabbed LaFerrara in the front seat of her car while her husband held a cord around his neck.
Mr Barbour told investigators they committed the crime because they wanted to kill someone together, police said.
She claimed to have killed 22 people in a six-year murder spree, but police have not charged her or her husband with any additional deaths.