9/11: Americans commemorate 13th anniversary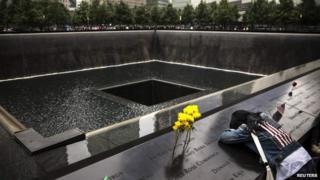 Americans have commemorated the 13th anniversary of the 9/11 terror attacks with ceremonies in New York and Washington.
The ceremonies began just before 09:00 local (13:00 GMT) and included a reading out of the names of those who died in the attacks.
In New York, the ceremony was held at the new National September 11 Museum.
In Washington, President Barack Obama led mourners in a commemoration held on the White House lawn.
Ceremonies also took place at the Pentagon and in Pennsylvania where one of the hijacked planes crashed.
The anniversary comes just hours after Mr Obama laid out his strategy to counter Islamic State militants in Iraq and Syria.
"Our objective is clear: We will degrade and ultimately destroy [IS] through a comprehensive and sustained counterterrorism strategy," he said in his address to the nation on Wednesday night.
Ceremonies began with a moment of silence at 08:46 am (12:46 GMT), the time when the first hijacked plane hit the World Trade Center.
---
Nick Bryant, BBC News, New York
For all the brashness, energy and resilience of New York, the commemorations marking this anniversary are a reminder that the city - and, let us not forget, its neighbouring states - suffers still from a civic form of post-traumatic stress.
Instead of an ugly, gaping wound at Ground Zero, there is now a fine-looking memorial that traces the footprints of the twin towers. Beside it is a newly opened museum housing artefacts from that awful day.
With the construction of One World Trade Center, Manhattan's beloved skyline has been repaired. But the emotional scars are still plain to see.
For all the immense global repercussions of the attacks of September 11th, what is striking about the anniversary remembrances in New York is that they are intensely personal.
The bell tolls, the national anthem is sung but always it is sound of relatives reading the names of lost love ones that lingers longest in the autumn air.
---
Family members then began the long process of reading the names of the nearly 3,000 people who were killed in the attacks on New York, the Pentagon in Virginia and in Shanksville, Pennsylvania.
In New York, relatives of those killed when two hijacked planes flew into the World Trade Center gathered at Ground Zero to remember the dead.
The new National September 11 Museum has been opened on the site to mark the atrocities.
Nearby, the nearly completed One World Trade Center has risen 1,776 feet - the year of American independence - above Ground Zero.
It is scheduled to be filled with office workers by 11 September 2015.
Ceremonies were also held in towns and cities across America.
To mark the anniversary, former White House press secretary Ari Fleischer is tweeting his memories and notes from the day it happened.