Austria lifts bank freeze on Zalmay Khalilzad's wife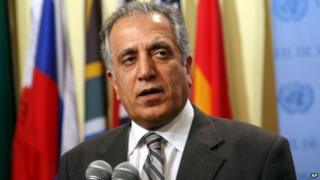 Austria has lifted a freeze on bank deposits held by the wife of former top US envoy Zalmay Khalilzad in connection with a money-laundering investigation.
A court in Vienna ruled in favour of an appeal by the couple's lawyers, saying Austrian prosecutors had presented insufficient evidence of wrongdoing.
They acted after being informed by the US authorities that Mr Khalilzad's business activities were being probed.
He was ambassador to Afghanistan, Iraq and the UN between 2003 and 2009.
His American-Austrian wife, Cheryl Benard, is a social scientist and author.
'No authority'
On Monday, the Austrian magazine Profil reported that seven Vienna-based bank accounts belonging to Ms Benard had been frozen.
Citing court documents from 2013, Profil said Mr Khalilzad was accused of transferring $1.4 million (£860,000) to his wife's account. The money was believed to be linked to activities involving companies in Iraq and the United Arab Emirates.
After Thursday's court ruling, the couple issued a statement stressing that no charges had been filed.
"We are pleased to have been informed that the regional high court in Vienna has ordered all of our assets to be unfrozen and returned to us immediately," they said.
"The court further ruled that there was no authority for Viennese prosecutors to seek the bank information regarding our accounts in the first place, much less be given the ability to unlawfully restrain us from accessing our accounts."
The US Department of Justice has so far not commented on the case.