Convicted terrorist Padilla given new 21-year sentence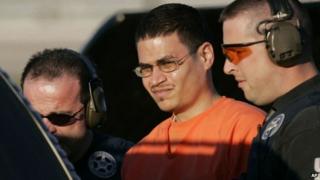 Jose Padilla, a US citizen convicted for involvement in a terror plot, has been given a new 21-year prison sentence after an appeals court ruled his original sentence was too lenient.
In 2007, Padilla, 43, was sentenced to 17 years after being found guilty of terrorism charges.
His original sentence took into account three years he spent in a US navy jail before being charged.
Padilla has alleged he was tortured while imprisoned there.
In handing out the longer sentence, Federal District Judge Marcia Cooke, who passed the original 17-year sentence, said she remained concerned about Padilla's treatment in the navy jail in South Carolina.
"I was then, and am now, dismayed by the harshness of Mr Padilla's prior confinement," she said in the Miami courtroom.
She rejected prosecutor's requests for a 30-year prison sentence.
'Enemy combatant'
Padilla was arrested in 2002 after returning to Chicago from abroad, where prosecutors said he had spent time at a military training camp in Afghanistan.
He was accused of but not charged with plotting to detonate a radioactive "dirty bomb" in a US city.
Padilla was imprisoned in South Carolina as an "enemy combatant", the first US citizen to be described this way.
He has alleged he was tortured while in the navy jail by being kept in darkness and isolation, deprived of sleep and religious materials, and kept from family and lawyers.
Before his indictment in 2005, Padilla's lawyers challenged the right of the Bush administration to hold him as a combatant without charge.
But the Supreme Court did not have the chance to rule on the question before the US government charged him in criminal court.
He was convicted on charges of conspiracy to murder, kidnap and maim people abroad, as well as providing material support for terrorism.
Troubled childhood
Padilla later brought a civil lawsuit against several US officials for his treatment.
But in 2011 his case was dismissed by a judge who said the law did not offer clear guidelines on the detention of enemy combatants.
On Tuesday, Judge Cooke ordered that Padilla should remain in a super-maximum security prison.
Earlier his brother, Tomas Texidor, testified Padilla was "not the man you think he is".
He described how Padilla, a former Chicago gang member, had converted to Islam in 1998 after a troubled childhood.
Padilla's defence lawyer argued that recruiters for extremist groups had lied to his client, presenting jihad as defending Muslims under attack.