Justin Bieber's Toronto assault charges dropped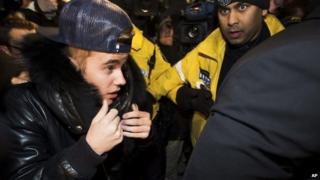 Canadian prosecutors have dropped an assault charge against pop star Justin Bieber stemming from an alleged 2013 attack on a limo driver in Toronto.
A driver who picked up Mr Bieber and his entourage from a nightclub in December 2013 said one of the passengers struck him.
But a prosecutor said on Monday the evidence could not prove the singer was the assailant.
Mr Bieber still faces separate assault charges in his native Ontario.
In August, police said he crashed his quad bike into a minivan in Stratford, and was arrested after allegedly getting to a fight with the other vehicle's driver.
Ontario Provincial Police released him on a promise to appear in court on 29 September on charges of assault and dangerous driving.
His lawyer, Brian Greenspan, has said the singer's "peaceful retreat in Stratford this weekend was unfortunately disrupted by the unwelcome presence of the paparazzi".
"This has regrettably resulted in charges of dangerous driving and assault."
In the December 2013 case involving the limo driver, on Monday prosecutor David Mitchell told a court the Crown had decided to withdraw the charge after a review of the evidence indicated the prosecution would be unable to confirm the assailant was Mr Bieber.
"There were a number of people in the vehicle seated behind the driver at the time of the incident and the Crown is not in a position to establish the identity of the person who came into contact with the complainant beyond a reasonable doubt based on the available evidence," Mr Mitchell said, according to the Toronto Sun.
The singer has had multiple legal troubles over the past year but has avoided jail time.
Last month he pleaded guilty in Florida to careless driving and resisting arrest in a deal that avoided a drugged-driving conviction. And in July, he pleaded no contest to a vandalism charge in California for throwing eggs at a neighbour's house.