Arizona floods: Jan Brewer declares state of emergency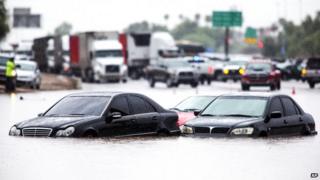 Arizona Governor Jan Brewer has declared a state of emergency after record rainfall caused torrential flooding.
Heavy storms on Monday in Phoenix and the surrounding area flooded roads and trapped residents.
The high water level forced the closure of streets, schools and the Arizona House of Representatives.
The National Weather Service has reported the highest level of rainfall in Phoenix for a single day since 1933.
"This is pretty historic, what we're seeing," Randy Cerveny, professor of geological sciences at Arizona State University, told news website AZCentral.
The heavy rains are the remnant of Tropical Storm Norbert, which was downgraded to a tropical depression on Monday.
The flooding has killed one person - a Tucson woman whose car was swept away by rushing water and trapped against a bridge.
The state of emergency is in place throughout Arizona and non-essential state employees have been told to stay at home during the storms.
"Every low spot on a road is a potential problem. Be safe, please," the Arizona Department of Transportation tweeted on Monday morning.
The flooding was particularly bad in western Phoenix, where water submerged cars on a major highway.
The weather is set to improve later in the week.