Iraq crisis: How Obama could defeat Islamic State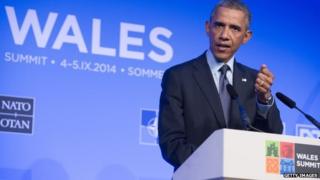 US President Barack Obama is planning an offensive against Islamic State (IS). Here is what the US-led campaign could look like.
Mr Obama once described Islamic State as a junior varsity basketball squad, an Americanism for a school team that is not at the top level. In recent months, though, the group has taken over parts of Syria and Iraq and released videos showing the horrific executions of US journalists Steven Sotloff and James Foley.
Like people around the world, Mr Obama is now struck by the group's brutality.
"We've seen the savagery not just in terms of how they dealt with the two Americans that had been taken hostage, but the killing of thousands of innocents in Iraq," he said on Sunday on NBC's Meet the Press.
'Proceeding cautiously'
The response from the US, he said, will be severe. "We are going to systematically degrade their capabilities," he said. "We're going to shrink the territory that they control, and ultimately we're going to defeat them."
First, though, Mr Obama will speak with members of the US Congress on Tuesday. Some, at least, say they admire his approach to dealing with Islamic State.
"It's appropriate that the Obama administration is proceeding cautiously," Congressman Gerald Connolly, a Democrat from Virginia who serves on the House foreign affairs committee, told the BBC. "We're not going to defeat [Islamic State] overnight."
Others have shown support. Mr Obama said he felt encouraged by Nato leaders at the recent summit in Wales. "The entire international community understands that this is something that has to be dealt with," he said on Meet the Press.
---
A coalition of the willing?
Mr Obama wants to demonstrate he's not going it alone, now that America is being dragged back into an unpopular war in Iraq. Already Nato allies have indicated they are on board to help with military assistance. The emphasis will probably be on providing training, equipment and arms for Iraqi and Kurdish forces, who will be the boots on the ground while the US bombs militants from the air. In addition, the plan hinges on a new Iraqi government taking steps to include the alienated Sunni constituency - and on regional Sunni leaders demonstrating solidarity in the fight against the Islamic State militants.
Barbara Plett Usher, BBC News, Washington
---
The US has carried out more than 130 air strikes in Iraq, trying to protect US citizens as well as ethnic and religious minorities from the group. The strikes may be stepped up in coming weeks and months. In addition US officials may decide to target individuals in Syria.
The strikes - with "precision-guided munitions" - would most likely take place in eastern Syria, said analyst Sam Brannen, who worked in the defence department under Mr Obama and is now a senior fellow at the Center for Strategic and International Studies in Washington.
Still, choosing the specific targets is hard. "You're bombing small groups of people who are highly mobile," Mr Brannen said.
Lack of intelligence
Islamic State is hard to infiltrate. Few are willing to tell outsiders about the group.
"In terms of human intelligence - it's not very good," said Andrew Tabler, a senior fellow at the Washington Institute for Near East Policy and author of In the Lion's Den: An Eyewitness Account of Washington's Battle with Syria.
Yet even if the strikes kill militant leaders, experts say a US-led campaign would be fraught with danger. The attacks could simply push the militants into Jordan and other countries. Equally troubling, the campaign could end up putting President Bashar al-Assad of Syria in a stronger position. His forces have also been battling Islamic State.
On a more profound level, the US-led campaign may also create false expectations. "People have a notion about warfare. They think, 'You either win or you lose.' That's not the case, especially with a non-state actor," Mr Brannen said.
"It's really a war in which you need to make them as weak as possible," he said.
In other words a clean victory over Islamic State is unrealistic.