Judge approves New York Central Park jogger case deal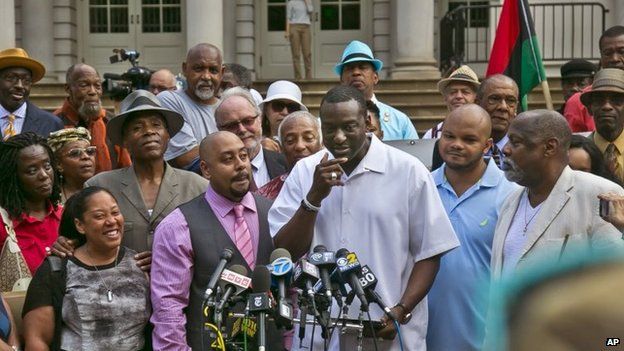 A US judge has approved a $41m (£25m) settlement between New York City and five men wrongfully convicted of the rape of a woman jogger in 1989.
The five, all black or Hispanic teenagers at the time, confessed to the attack in Central Park after interrogation, but later recanted.
They served prison terms ranging from seven to 13 years, before their exoneration in 2002.
New York Mayor Bill de Blasio said the settlement was "long overdue".
Details of the deal had been reported in June but were publicly disclosed for the first time on Friday when US Magistrate Judge Ronald Ellis in New York approved the deal.
The BBC's Nick Bryant in New York says the settlement marks the end of one of New York's most protracted and bitter legal disputes.
The settlement is thought to be the largest in a wrongful conviction case in the city's history.
The victim, a white 28-year-old investment banker, was severely beaten, raped and left for dead in a bush. She had no memory of the attack.
Raymond Santana, Kevin Richardson, Antron McCray and Yusef Salaam and Korey Wise, then aged 14-16, were arrested and interrogated for hours without access to lawyers or their parents.
They confessed but later recanted saying their admissions were the result of police coercion.
In 2002, an investigation by the Manhattan prosecutor determined that a serial violent offender named Matias Reyes had confessed to the attack and said he had acted alone.
The racially charged case shocked the city and provoked fears of gangs of black teenagers going on crime rampages.