Michael Brown shooting: Ferguson police wear cameras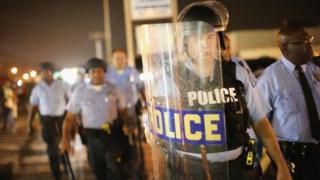 Police in Ferguson, Missouri, have begun using body cameras, three weeks after a white officer shot and killed an unarmed black teenager.
The death of Michael Brown, 18, led to weeks of often violent protests between local residents and the police.
Differing accounts of what happened before Mr Brown was shot led to calls for the use of body cameras to record police interactions.
The Ferguson police chief said the cameras were well received by officers.
"They are really enjoying them," police chief Tom Jackson told the St Louis Post-Dispatch after around 50 body cameras were deployed on Saturday.
"They are trying to get used to using them," he said.
The cameras were donated by two video surveillance companies, Safety Visions and Digital Ally.
In a statement on its website, Safety Vision said it donated the cameras in the hopes that they could bring transparency to future investigations.
Mr Brown was killed on 9 August after police officer Darren Wilson stopped him and a friend for walking in the middle of the street.
Eye-witnesses have said Mr Brown raised his hands in a gesture of surrender before he was shot multiple times by Mr Wilson.
Police accounts have disputed this, saying there was a struggle between Mr Brown and Mr Wilson which led to the shooting.
Many local residents believe the officer, who has been place on administrative leave, has not been adequately punished.
A St Louis County grand jury has begun hearing evidence about the killing and will decide whether or not to charge Mr Wilson with a crime.
The US Justice Department has opened its own investigation into the shooting.