US journalist Theo Curtis released from Syria captivity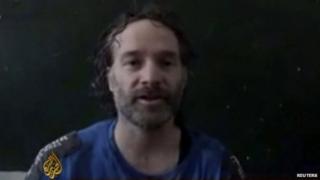 American journalist Theo Curtis has been released after being held captive by al-Nusra militants in Syria since 2012, the US has announced.
US Secretary of State John Kerry said he was "relieved and grateful that Theo is coming home".
He added that the US had worked with more than two dozen countries to help secure his release.
Last week, another kidnapped US journalist, James Foley was killed by the Islamic State (IS) group in Syria.
IS published a video of the moments before and after the beheading of Mr Foley, 40, who was seized in 2012. UK secret services are reportedly close to identifying a suspected British jihadist from the footage of the killing.
'Unspeakable tragedy'
On Sunday, Mr Kerry welcomed the news of Mr Curtis' release "particularly after a week marked by unspeakable tragedy".
"Over these last two years, the United States reached out to more than two dozen countries asking for urgent help from anyone who might have tools, influence, or leverage to help secure Theo's release and the release of any Americans held hostage in Syria," he said.
Mr Curtis, from the state of Massachusetts, was reportedly abducted in Turkey on his way to Syria.
The United Nations confirmed that it had facilitated his release.
It said the journalist was handed over to UN peacekeepers in the Golan Heights. After an initial health check, he was then transferred to US government representatives.
In a statement, Mr Curtis' mother thanked the governments of America and Qatar for their help in securing her son's freedom.
"We are so relieved that Theo is healthy and safe and that he is finally headed home after his ordeal, but we are also deeply saddened by the terrible, unjustified killing last week of his fellow journalist, Jim Foley, at the hands of the Islamic State," Nancy Curtis said.
"My entire focus right now is on helping the other families of those still being held in Syria, and on taking care of my son."
The news of Mr Curtis' release came as a memorial service was being held for Mr Foley in his hometown of Rochester in New Hampshire.
The Mass was attended by his parents, John and Diane Foley, and hundreds of others. The bishop read out a letter from the Vatican extending the condolences of Pope Francis.
Mr Foley was abducted in November 2012. He had reported across the Middle East, working for US publication GlobalPost and other media outlets.
---
Formed out of al-Qaeda in Iraq (AQI) in 2013, IS first captured Raqqa in eastern Syria
By early 2014, it controlled Falluja in western Iraq
Has since captured broad swathes of Iraq, seizing the northern city of Mosul in June
Fighting has displaced at least 1.2 million Iraqis
Pursuing an extreme form of Sunni Islam, IS has persecuted non-Muslims such as Yazidis and Christians, as well as Shia Muslims, whom it regards as heretics
In July alone, IS expanded dramatically, recruiting some 6,300 new fighters largely in Raqqa, an activist monitoring group said
---