National Guard begins to withdraw from Ferguson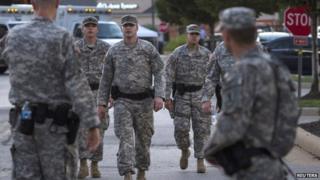 The National Guard has begun withdrawing from Ferguson, Missouri, where the shooting of an unarmed black teenager by a white policeman has sparked days of protests.
The troops were deployed on Monday when demonstrations became more violent.
On Thursday, Missouri governor Jay Nixon ordered their withdrawal when it appeared that tensions had eased.
Michael Brown, 18, was killed on 9 August after being stopped by a police officer for walking in the street.
Mr Nixon had called in the National Guard, a military force established by the state of Missouri, on Monday to support police operations, amid unrest driven by anger over Brown's death and the police response.
Monday night 'critical'
But Wednesday and Thursday were relatively calm with only a few arrests made.
Despite the easing of tension, some caution violence could flare up again when Mr Brown is buried on Monday.
"Monday night will be a critical night," St Louis based Bishop Edwin Bass told the Reuters news agency.
"The funeral could have a big impact on the mood of the community," he said.
The officer who killed Michael Brown, Darren Wilson, has been suspended with pay. Mr Brown's family and supporters have called for him to be prosecuted.
A grand jury panel of residents has begun hearing evidence in the case, though officials have not said when it will reach a decision.
Attorney General Eric Holder arrived in Ferguson on Wednesday afternoon to talk to justice department officials leading a separate federal investigation into the killing.
Mr Holder, who is the first black US attorney general, said on Thursday that the "national outcry we have seen speaks to the mistrust and mutual suspicions that can take hold between law enforcement and certain communities".
"I wanted the people of Ferguson to know I personally understood that mistrust," he said. "This attorney general and this department of justice stands with the people of Ferguson."
He added that while he had gone to Ferguson to "provide reassurance, in fact they gave me hope".