Boston bomber 'friend' Dias Kadyrbayev pleads guilty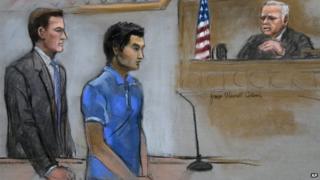 A friend of one of the men suspected of carrying out the Boston Marathon bombing has pleaded guilty to obstructing the probe into the attack.
Dias Kadyrbayev admitted removing Dzhokhar Tsarnaev's backpack containing emptied fireworks after the 15 April 2013 attack, which killed three people.
Kadyrbayev, from Kazakhstan, is seeking a lighter sentence as part of his plea.
He is one of three people charged with hampering the investigation into the blast that left more than 260 injured.
Last month, a US jury found Kadyrbayev's roommate, Azamat Tazhayakov, guilty of obstructing the investigation by removing items which included Tsarnaev's laptop.
Lighter sentencing
The objects were removed from a dormitory room at the University of Massachusetts-Dartmouth, where they were all students, hours after the FBI publicly released photographs of the bombing suspects.
The backpack and fireworks - emptied of their explosive powder - were later found in a Massachusetts landfill.
Under the plea agreement, prosecutors say they would ask for no more than seven years in a federal prison for 20-year-old Kadyrbayev.
Judge Douglas Woodlock did not immediately accept the plea, but said he would put it under review.
Kadyrbayev is due to be sentenced on 18 November, whereas Tazhayakov - also from Kazakhstan - will be sentenced on 16 October.
Both men also face charges of conspiracy, which together with obstruction can carry a penalty of up to 25 years.
A third man, Robel Phillipos, has been charged with lying to investigators in connection with the matter. If convicted, the US national could face a possible 16-year sentence.
Tsarnaev - who faces the death penalty if convicted - will stand trial in November.
He has pleaded not guilty to 30 charges, of which 17 carry the possibility of capital punishment.
Prosecutors allege Tsarnaev set off two pressure cooker bombs with his older brother Tamerlan, who later died in a police shoot-out.
Tsarnaev will be charged under the federal death penalty law; Massachusetts abolished the use of capital punishment in 1984.