Bowe Bergdahl prisoner swap 'violated law'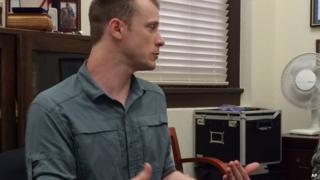 The exchange of five senior Taliban commanders held at Guantanamo Bay for a US soldier held captive by the Taliban violated the law, an independent US government watchdog agency has said.
The defence department did not give Congress the required 30-days notice before releasing the men, the Government Accountability Office said.
The Pentagon says it skipped the notice due to the "exceptional circumstances".
Sgt Bowe Bergdahl was freed in May after five years in captivity.
In the 31 May exchange, the Taliban leaders were transferred to the custody of the Gulf state of Qatar, which brokered the deal, and Sgt Bergdahl was handed over to a team of US special forces soldiers.
The swap prompted fierce criticism from the opposition Republican Party, which objected to the Taliban fighters' release and said they would pose a renewed risk to the US.
Among other issues, Republicans said the Democratic Obama administration failed to give Congress advance notice of the swap, required under federal law governing releases from the US prison at Guantanamo Bay, Cuba.
In response to the criticism, the administration said it could not wait 30 days to make the swap because Sgt Bergdahl's life was in danger, and said the requirement for 30 days' notice was unconstitutional because it interfered in the Bergdahl case with the president's authority to protect US soldiers and citizens abroad.
In a memorandum released on Thursday, the GAO rejected that rationale.
"Because [the Pentagon] did not provide written notice to the relevant congressional committees until 31 May 2014, the same day as the transfer, [the Pengaton] violated" the law, the GAO wrote in an opinion.
On Thursday, the defence department reiterated it believed "the recovery of Sgt Bergdahl was conducted lawfully" and said the decision was made in consultation with the justice department.
"The administration had a fleeting opportunity to protect the life of a US service member held captive and in danger for almost five years," Pentagon spokesman Rear Adm John Kirby said in a statement.
Sgt Bergdahl walked off his base in Afghanistan in 2009 and has been accused by some of his fellow soldiers of deserting.
He has been questioned by a general investigating his initial disappearance. No charges have been laid against him, and he remains in the Army, serving in a desk job in Texas.