Yosemite-area wildfire forces 13,000 evacuations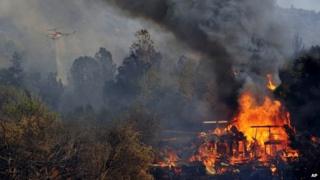 More than 13,000 homes and business in central California are under evacuation orders as a 1,800-acre (728Ha) wildfire burns near Yosemite National Park.
Sheriff John Anderson also declared a state of emergency in Madera County on Monday evening.
At least eight structures have burned so far. Schools in the area were closed and a motorway leading into the park was shut on Tuesday.
Months of drought have contributed to the scourge of fire this year.
About 500 firefighters were battling the fire as of early Tuesday morning, according to California's wildfire reporting website.
There were two injuries reported.
The fire is threatening foothill communities near the park, including a propane company with 30,000-gallon (113,562-litre) tanks on the site.
Firefighters were trying to save the facility but were wary of explosions.
"We will be in there as long as we can, but firefighter safety is an issue," state fire division chief Don Stein told the Fresno Bee newspaper.
Further south, another blaze that began on Monday near Bakersfield was growing quickly, burning up to 3,000 acres.
"It's cranking," US Forest Service spokeswoman Cindy Thill told local media.