Police investigate break-in at Justin Trudeau house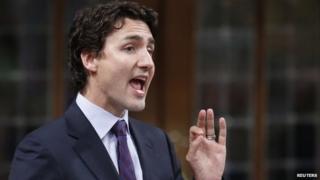 Police are investigating a break-in at the Ottawa home of Canadian Liberal Party leader Justin Trudeau.
A note warning the family to lock their doors was found inside on top of several large kitchen knifes, Canadian media report.
No-one was hurt, but Mr Trudeau said he and his family were "extremely troubled" by the Saturday incident.
He has asked officials to decide whether he will now need a security detail, according to broadcaster CBC.
Prime Minister Stephen Harper and New Democratic Party leader Thomas Mulcair already have dedicated security details at their homes.
The Liberals are the third-largest party in the Canadian House of Commons, after the majority Conservatives and the official opposition New Democrats.
"Everybody's safe, but the idea of someone getting into the house while my family was sleeping, while I'm away working is very distressing, to say the least," Mr Trudeau said on Saturday.
He told the Canadian Press news agency he and his wife have now had "very serious discussions" about his travel during the 2015 election season.
Mr Trudeau was on his way to Montreal at the time but his wife and their three young children were sleeping in the family's Ottawa home.
The family found a collection of items near the door with a note saying the items could have been stolen and the family should lock their doors, Canadian media reported.
City police were investigating the break-in.
Public Safety Minister Steven Blaney said in a statement the matter was "being currently dealt with by the RCMP [Royal Canadian Mounted Police] which has the operational expertise when it comes to ensuring the security of political leaders".
"A violation of the sanctity of one's home is an experience which no Canadian family should have to face," a spokesman for Mr Blaney said.