Judge extends ban on Ohio executions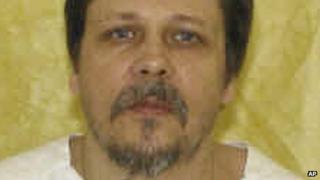 A US federal judge has extended a moratorium on executions in Ohio into January next year, amid concerns over the combinations of drugs to be used to carry out the death penalty.
The ruling comes as US states struggle to obtain a drug previously used for execution by lethal injection.
The makers of that drug have refused to allow its use in executions.
Earlier this year, inmates in Arizona and Ohio suffered drawn-out deaths when new drug combinations were used.
In a one-page order, Judge Gregory Frost ruled that executions scheduled for September, October and November should be delayed.
That postpones the deaths of three men, including Ronald Phillips, scheduled for 18 September. He was convicted in the 1993 rape and death of a three-year-old girl.
New drug combination
A previous moratorium on executions in Ohio was scheduled to expire this week.
In recent years, US states have had increasing difficulty obtaining drugs for use in lethal injections, as their manufacturers have grown unwilling to provide them for that use.
In Ohio, authorities have been unable to obtain supplies of the drug pentobarbital, a speciality version of a drug previously used for executions.
As a result, it now uses a backup combination of the sedative midazolam and the painkiller hydromorphone.
An inmate executed with this combination in January took a record 26 minutes to die.
Dennis McGuire, 53, a convicted murderer, was observed to have gasped several times and his mouth repeatedly opened and closed,
His lawyers said the drugs placed him at risk of air hunger, a phenomenon which causes terror as the patient struggles to catch his breath.
In another execution in Arizona, an inmate injected with the same combination of drugs took nearly two hours to die.
Joseph Wood, 55, a double murderer was said to have gasped more than 600 times during the execution.
The next execution scheduled in Ohio was to have occurred on 18 September, when Ronald Phillips was set to die for the 1993 rape and death of a three-year old girl.