Republicans pick Cleveland for 2016 convention site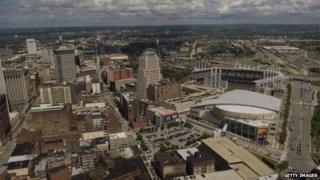 The US Republican Party has chosen Cleveland in the battleground state of Ohio as the site of its 2016 convention, party leaders have said.
At the event, the party's presidential candidate will be formally nominated and its platform approved.
Modern party conventions, however, are often seen as costly promotional events with little political drama.
Probable contenders for the nomination include Ted Cruz, Marco Rubio, Rand Paul, Chris Christie and Jeb Bush.
Mr Cruz, Mr Rubio and Mr Paul are senators. Mr Christie is governor of New Jersey, and Mr Bush, the son and brother of ex-presidents, is former governor of Florida.
Evenly divided
The Republicans are eager to retake the White House in 2016 after eight years in opposition under President Barack Obama. Many Democrats, meanwhile, are pinning their hopes on popular former Secretary of State Hillary Clinton.
The Republicans' choice of a city in Ohio is noteworthy because the state is perennially one of the most fiercely contested in the nation.
It offers a prize of 18 electoral votes - there are 538 in total, with 270 needed to win the White House - and is virtually evenly divided between Republican and Democratic voters.
In every presidential election since 1964, the candidate who wins Ohio has won the election.
"Cleveland is a world class city that has demonstrated their ability to provide our next presidential candidate with a launching pad to the White House," Republican National Committee site selection chairman Enid Mickelsen said in a statement.
"I look forward to working with Cleveland in the coming months to ensure the Republican convention is the best yet."
The Democrats are said to be weighing Philadelphia, Phoenix, Brooklyn and another city in Ohio - Columbus - for their convention.