Leaked memo on CIA says 'No American proud' of abuse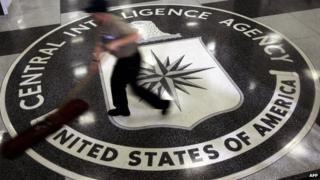 A secret Senate report on CIA interrogations "tells a story of which no American is proud", a leaked White House memo states.
The report was described in a draft memo of media talking points proposed by the state department, which was first reported by the AP news agency.
The memo says now-discontinued CIA interrogation practices were brutal and produced little intelligence of value.
President Barack Obama halted the CIA programme when he took office in 2009.
During the presidency of George W Bush, the CIA operation known internally as the Rendition, Detention and Interrogation programme saw as many as 100 suspected terrorists held in "black sites" outside the US and interrogated using methods such as waterboarding, slapping, humiliation, exposure to cold, and sleep deprivation.
The state department document, a set of proposed talking points intended to guide White House officials' media appearances, was accidentally emailed to the Associated Press by the White House, the news agency says.
In addition to an understanding of how the state department views the Senate report, it offers new details about what the report concludes.
The document indicates some US ambassadors were informed of the CIA interrogation programme but were told not to inform superiors in the state department. Also, it indicates that the secretary of state during many of the Bush years, Colin Powell, was "kept in the dark" on interrogation methods at first.
Among the proposed responses to the Senate report is a description of the US interrogation programme as a "mistake" that the US must "acknowledge, learn from, and never repeat".
"The report leaves no doubt that the methods used to extract information from some terrorist suspects caused profound pain, suffering and humiliation," the document states.
"It also leaves no doubt that the harm caused by the use of these techniques outweighed any potential benefit."
But the document notes approvingly that "America's democratic system worked just as it was designed to work in bringing an end to actions inconsistent with our democratic values".
The memo's leak comes amid a dispute between the CIA and the Senate over the investigation's process.
On Thursday, a CIA internal investigator found agency employees had improperly searched Senate computers during the investigation.
CIA Director John Brennan has apologised to Senate intelligence committee leaders and opened an internal inquiry to investigate whether the officers should be disciplined, a spokesman said.
Senate intelligence committee chairwoman Dianne Feinstein said the apology and agency inquiry were "positive first steps".
"CIA personnel inappropriately searched Senate intelligence committee computers in violation of an agreement we had reached, and I believe in violation of the constitutional separation of powers," she said.
The Senate voted in April to make an unclassified summary of its report on the programme public.
The CIA and some Republicans dispute some of the findings, saying the report contains errors.