George Washington Bridge to get suicide prevention fence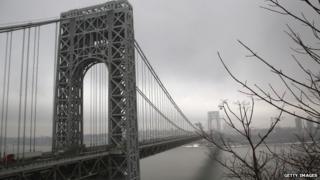 A major bridge between New York City and New Jersey will be getting a safety fence designed to prevent suicides, after an increase in deaths this year.
The 9ft (2.7m) tall fence along both sides of the George Washington Bridge will cost between $37m (£22m) and $47m.
Thirteen people have killed themselves by jumping off the bridge so far in 2014, after 16 deaths in all of 2013.
Officials say they have increased suicide prevention efforts on the bridge in the past few years.
"The Port Authority has stepped up police patrols, added surveillance cameras and installed hotline phones at the George Washington Bridge in recent years to help address the issue of bridge suicides, preventing more than 75 deaths since the beginning of last year," spokesman Ron Marsico told the BBC.
Mr Marsico said the fence would be installed as improvements were made to the bridge's pedestrian and bicycle access areas and would be completed by 2022.
The move comes a month after officials at the Golden Gate Bridge in California voted to install suicide-prevention nets along the bridge.
In 2012, 18 people jumped to their deaths from the George Washington Bridge and 43 people attempted to do so, according to the Port Authority Police Department.
The next year, 16 people died and 37 attempts were averted. Half-way through 2014, 13 people have died and 40 were averted.
Port Authority engineer Bernie Yostpille told the Bergen Record newspaper that an increase in suicide attempts was the motivation for installing the fence.
He added it would be a costly project because an error could turn the fence into a sail, making the bridge deck move up and down.
In one high-profile case, university student Tyler Clementi jumped off the George Washington Bridge days after his roommate filmed him kissing another man in a dorm room in September 2010.
The roommate, Dharun Ravi, served 20 days of 30-day prison sentence after being found guilty of invasion of privacy, among other charges.