Last missing victim of US mudslide found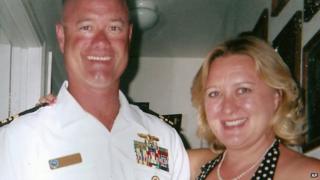 Searchers in the US state of Washington have located what they believe to be the final missing body following a deadly mudslide in March.
The disaster in the town of Oso claimed 43 lives, but heavy rains and a perilous debris field slowed the search for victim Kris Regelbrugge, 44.
Her husband, Navy Commander John Regelbrugge, also died in the disaster.
The mudslide destroyed about 30 houses in the area, about 55 miles (90km) north of Seattle.
'Mind-boggling'
"I'm humbled and honoured that we are able to return Kris to her family," Snohomish County Sheriff Ty Trenary wrote in a statement.
The 22 March mudslide - considered the deadliest in US history - was caused by significant rainfall and groundwater seepage, scientists say.
A slope above the town collapsed and slid as far as 2,000 ft (610m) in as little as two minutes.
"When you look at the site, you can't imagine that it would run out that far. It's really mind-boggling," Jean Benoit, a professor of engineering at the University of New Hampshire, told the Associated Press news agency.
Nearly 900 searchers - including 350 National Guard soldiers - were dispatched to the area to aid in initial recovery efforts.
The Army Corps of Engineers also assisted in the construction of a rock berm to reduce flooding in the area.