Investigation finds Florida police secretly KKK members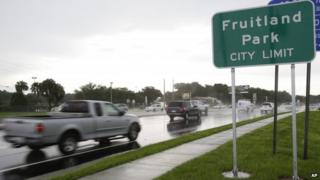 An investigative report has linked three police officers in Florida to the Ku Klux Klan (KKK), a racist secret society once active in the area.
George Hunnewell, David Borst and James Elkins, have all since left the Fruitland Park police force.
The officers were reportedly linked to the KKK based on FBI information.
Residents of Fruitland Park reported feelings of shock learning that police were members of the secret society, once politically powerful in the 1920s.
'Exceedingly unusual'
"It's rather disconcerting to know," local Chery Mion told the Associated Press news agency. "I didn't think that organisation was still around."
Mark Potok, a senior fellow at research organisation Southern Poverty Law Center, told the AP, "It's exceedingly unusual these days to find a police officer who is secretly a Klansman."
Mayor Chris Bell said he had heard word of a Klan rally in the 1970s, but had not seen anything firsthand in his more than 30 years in the town of fewer than 5,000 residents.
Many law enforcement members in the South were said to be members of the group - known for violence against African Americans - as late as the 1960s.
The KKK, which once had a membership of four million people, has seen its numbers dwindle to less than 5,000 nationwide in the years since.
Mr Hunnewell's wife, Ann, is said to have brought his membership in the organisation to light, prompting his firing from the 13-member police department.
Ann Hunnewell told the Florida Department of Law Enforcement she and her husband were ordered to infiltrate the Klan as part of an undercover investigation in 2008. The chief of the department at the time, James Isom, has denied ordering any such operation.
Mr Borst later resigned from the force, but has denied being a KKK member.
Mr Elkins, who Mrs Hunnewell claims recruited her and her husband, reportedly resigned from the police department in 2010.