Broadway legend Elaine Stritch dies in Michigan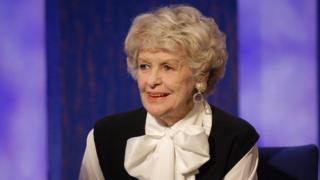 Legendary Broadway actress Elaine Stritch has died at her home in Michigan aged 89.
The Emmy and Tony winner was also known for her work in the 1970s television series Two's Company.
She recently had a recurring role on celebrated comedy 30 Rock and held a farewell concert tour in New York.
She retired to Birmingham, Michigan, after seven decades in the spotlight, suffering from diabetes and having recently broken her hip.
"I'm going to kind of take it easy," she said in 2013. "Every time I leave the building, I fall on my ass."
'Wish me well'
The actress and singer was known for her tart tongue and wry musings, as well as a penchant for cigarettes and alcohol.
She began her career in the 1940s, performing in a series of stage productions and eventually garnering five Tony nominations.
She also appeared in films, including Woody Allen's September and Small Time Crooks.
She admitted it would be difficult to bow out of the limelight during her farewell concert tour in April 2013.
"It's going to be hard to turn my back on you guys, for a little while at least. But I have to," she told a star-studded audience at the city's Cafe Carlyle that included Tom Hanks, Liza Minnelli and Tony Bennett.
"I've just got to take it easy," she added. "Wish me well and I'll do the same to you."