US 'basement boy' Charlie Bothuell forced to work out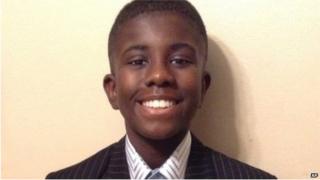 A boy found in his father's Detroit basement after being missing for 11 days was forced to perform gruelling workouts, a welfare agency reports.
Charlie Bothuell, 12, was made to rise before dawn and do 100 push-ups and sit-ups, according to court filings.
Police officers found the boy, who had been feared dead, behind a pile of boxes in June.
The state has begun proceedings to remove his father's and stepmother's parental rights.
Charlie "experienced physical abuse by his father... for the entire two years he has resided in Mr Bothuell's residence", the Department of Human Services said in a court filing.
"The abuse included being physically disciplined with a PVC pipe on his butt [sic], feet, chest, head, thighs, sides and arms," the court filing added. "He was often too sore to sit or walk."
'Corporal punishment'
Charlie was found behind boxes in the basement of his father's block of flats on 25 June after being feared dead by authorities.
Later, he told investigators, his stepmother Monique Dillard-Bothuell instructed him to go to the basement and "not to come out, no matter what he hears" and did not bring him food.
In a subsequent court hearing it was revealed the boy's body was marked with bruises that indicated he had been physically abused in the past.
No criminal charges have yet been filed against the boy's father or stepmother.
A court hearing on Thursday revealed caseworkers were told by Charlie he was ordered to the basement on 14 June because he did not complete one of his twice-daily workouts.
Those reportedly consisted of 100 push-ups, 200 sit-ups, 100 jumping jacks, as well as time spent on an elliptical machine and weight-lifting.
A lawyer for the boy's stepmother told US media the claims were "ridiculous", saying Charlie was previously overweight and diabetes ran in the family.
"There's no child abuse," Mark Magidson said. "Was there corporal punishment on some occasions? There may have been."
Meanwhile, the boy has been placed with his biological mother.