Sgt Bowe Bergdahl 'captivity photo' surfaces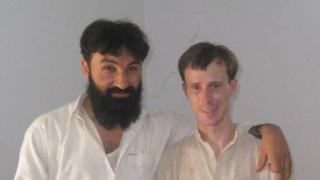 A photo of Sgt Bowe Bergdahl appearing to pose with a Taliban leader during his captivity in Afghanistan has been dismissed as "propaganda" by the US.
After being held for five years, Sgt Bergdahl was released in May in a swap for five Guantanamo detainees.
A Pentagon spokesman said the US had no reason to believe the photo, which appeared on social media and has not been verified, was not authentic.
He is shown with Badruddin Haqqani, a militant commander killed in 2012.
He has been undergoing what the US military calls a "reintegration process" in Texas since his return.
The photo appeared on a Taliban-supporting Facebook page and Twitter account, but was undated.
Sgt Bergdahl was held captive, reportedly by both the Taliban and the affiliated Haqqani network, since 2009.
Defence department spokesman Colonel Steven Warren told reporters on Thursday any photos released by the Taliban or Haqqani network "are 100% propaganda and should be viewed that way".
Sgt Bergdahl has not spoken about his ordeal publicly since his release on 31 May.
The move to release five Guantanamo detainees after Sgt Bergdahl was transferred to US special forces sparked a heated political row in the US.
Fellow soldiers have also argued Sgt Bergdahl knowingly wandered away from his unit while deployed in Afghanistan in June 2009.
The US has opened an investigation into his disappearance, but has said they will not interview Sgt Bergdahl until he is finished with the reintegration process.
An earlier report concluded he had walked away from his base without authorisation, but have stop short of accusing him of desertion.