Deadly storms rip through eastern US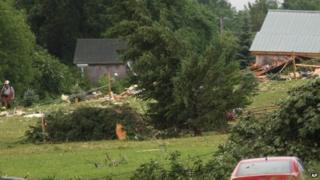 A wave of thunderstorms with powerful winds in northern New York state have killed at least five and left hundreds of thousands without electricity.
Four residents of the rural town of Smithfield were found dead after several homes were destroyed by the fast-moving storms.
Madison County Sheriff Allen Riley told a local broadcaster investigators were searching for others in the rubble.
A boy at summer camp in Maryland was also killed when a tree fell.
'Obliterated'
Six of his friends were injured in the same accident, which happened as they were moving to shelter.
Those killed in Smithfield were later identified by the sheriffs' department as Kimberly Hilliard, 35; Paris Newman, four months; Virginia Warner, 70; and Arnie Allen, 53.
"The houses are obliterated," Town Supervisor Rich Bargabos told the Syracuse Post Standard. "There is not a piece of framework together."
He added one of the house was "picked up and moved probably 500 feet across the road into another house".
Thousands were reported without power across New York on Wednesday as crews worked to restore services.
New York Governor Andrew Cuomo said several central and northern counties experiences damages from the storms.
US forecasters said winds from the storms in the state topped 100mph (160km/h).
Three small tornadoes touched down in Ohio, while at least two were spotted in Pennsylvania, knocking out power for hundreds of thousands of people.
Thousand also reportedly lost power in New Jersey and near Washington DC as a result of the storms.