Search continues for missing Calgary boy and grandparents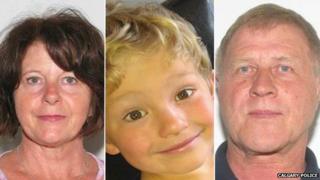 Calgary police are resuming their search of a property as part of the investigation into the disappearance of a five-year-old and his grandparents.
Nathan O'Brien, five, Alvin Cecil Liknes, 66, and Kathryn Faye Liknes, 53, were reported missing last Monday.
Investigators have been searching a rural estate in Airdrie, about 20 miles from where they disappeared, and have marked off a new area there to look at.
Police spoke to a "person of interest" over the weekend, CBC reports.
But officers have not named anyone they may have questioned in connection with the disappearance.
The three family members were reported missing after Nathan's mother went to pick up her son after spending the night at his grandparents' house.
They had been holding an estate sale during the weekend.
Canadian officials issued an amber alert, which warns of a missing child, on Monday afternoon.
The family appeared at a news conference later in the week in an appeal for help finding their son and parents.
On Friday, police asked for any information about a lorry and the driver that had been seen near the grandparents' house at the weekend.
That call for information led them to the Airdrie property. Investigators have combed the area with police officers, dogs and a helicopter.
Police have not said what, if anything, they have found in the their search, but confirmed they found blood inside the Liknes' house, leading investigators to believe something violent happened there.
Earlier, police said they were hopeful the missing family was still alive, but said they may need medical attention.