Obama names Bob McDonald as new VA chief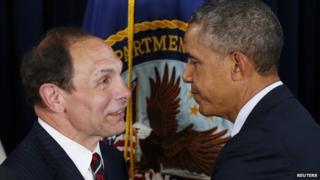 President Barack Obama has nominated the former head of consumer products giant Procter and Gamble to lead the Department of Veterans' Affairs.
Bob McDonald, an Army veteran, would replace Eric Shinseki, who resigned.
The agency has been mired in scandal, with managers alleged to have falsified records to conceal long hospital waits.
It is also dealing with a huge influx of Iraq and Afghanistan veterans and struggling to provide care to an aging generation of Vietnam veterans.
Mr Obama made the announcement on Monday afternoon at the Veterans' Affairs (VA) headquarters in Washington.
"What especially makes Bob the right choice to lead the VA right now is his three decades of experience building and managing one of the world's most recognisable companies," Mr Obama said. "In short, he's about delivering better results."
The former chief executive said he would put the eight million veterans the agency serves each year at the centre of his potential term as secretary.
"At the VA, the veteran is our customer and we must all focus all day, every day on getting them the benefits and the care that they have so earned," he said on Monday.
"That's the only reason we are here."
Mr McDonald - who has donated to Republican politicians, including Ohio Senator Rob Portman and House Speaker John Boehner - would need to be confirmed by the Senate.
Mr Shinseki resigned in May after an internal investigation found veterans at an Arizona VA hospital had waited an average of 115 days for an initial appointment, even as hospital administrators reported to the agency an average wait time of only 24 days.
This month, another internal audit reported that more than 57,000 veterans had been waiting up to three months for medical appointments at VA hospitals.
Congress is considering legislation that would enable former soldiers to seek medical care from private hospitals and from other government healthcare programmes while authorising funds to hire more doctors and nurses.
On Monday, Mr Obama said some of those responsible for falsifying patient records had been fired and more may be punished. He reiterated his call for Congress to make it easier for the VA secretary to fire certain senior leaders if needed.