NFL lifts payout cap in concussion suit settlement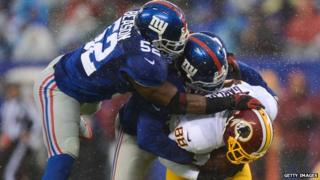 The National Football League (NFL) has agreed to remove a cap on compensation for thousands of players who say the league hid the dangers of head trauma.
More than 4,500 former players had previously sued the league, reaching a $765m (£490m) settlement last August.
That settlement was rejected by a federal judge in January.
Judge Anita Brody doubted the compensation capped at $675m could cover 20,000 now-retired players. The NFL has now agreed to remove the limit.
"Some of the players were concerned and asking questions about whether they could be in a deal if they weren't sure there'd be money there for them 40 years from now if they get sick," plaintiffs' lawyer Christopher Seeger told US media.
"That's what drove these changes."
Neurological problems
A revised settlement agreement filed in Judge Brody's federal district court in Philadelphia on Wednesday also removes a provision barring anyone who receives concussion-related damages from suing amateur football leagues.
The initial settlement between the NFL and the players provided $675m in compensation for players with neurological symptoms, $10m for education and medical research, and $75m for testing.
That deal was designed to last at least 65 years and to protect players who develop dementia or neurological problems related to concussions suffered during their professional football careers.
Helmet-to-helmet impacts are common in American football as strong, heavy and fast-moving players collide on the field of play.
Studies have linked repeated concussions with chronic traumatic encephalopathy, a disease with symptoms including memory loss and mood swings.
Critics of the deal have argued that, with $10bn in annual revenue, the NFL is getting off lightly under the settlement agreement.
Plaintiffs' lawyers, meanwhile, have argued settling the case avoids a protracted legal battle.
Judge Brody will now determine whether to accept the new terms of the settlement deal.