Seattle archdiocese settles sexual abuse claims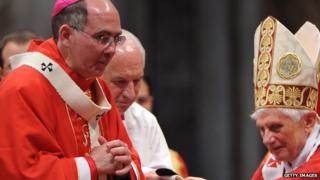 The Catholic Archdiocese of Seattle has settled 30 sexual abuse claims by men who attended two religious schools as long ago as six decades.
The abuse is said to have occurred at O'Dea High School and Briscoe School, run by the Christian Brothers religious order, 30-60 years ago.
The plaintiffs, ages 42-68, said the Church failed to protect them.
The settlement involves the payment of $12.1m (£7.1m), which will be paid by archdiocese insurance.
'The first step'
"I deeply regret the pain suffered by these victims," Archbishop J Peter Sartain wrote in a statement.
The plaintiffs' lawyer Michael Pfau wrote in a statement that the settlement represents "the first step in allowing all parties to focus on the future".
The lawsuits filed in King County Superior Court allege both the Christian Brothers and archdiocese failed to protect children from abusers.
Eleven men say they were sexually abused by a former teacher at O'Dea High School, while five said they were abused by a different teacher at the school.
Roughly half of the plaintiffs said they suffered abuse at Briscoe School, which closed in the late 1960s.
The plaintiffs will also receive settlement money from 2011 bankruptcy proceedings against the Christian Brothers.
Two groups holding the religious order's assets sought federal bankruptcy protection following hundreds of abuse claims.