Two dead and seven wounded in late-night Miami shooting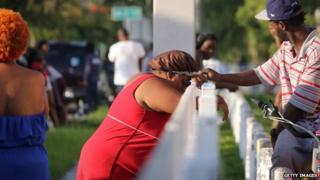 Two people were killed and seven wounded in an overnight shooting in Miami, police say.
Investigators say multiple gunmen opened fire outside an apartment building complex in the Liberty City neighbourhood.
Kevin Richardson, 29, and Nakeri Jackson, 26, were killed in the attack.
Officials say they are investigating a motive behind the shootings, which happened shortly after 02:15 local time on Tuesday.
Later that morning, police cones marked dozens of spent shell casings outside the two-storey block of flats.
People standing nearby said they were afraid to talk about the shootings, the Associated Press reported.
"He said he was coming back. I want my baby. He don't mean no harm to nobody," Richardson's mother, Hermonya Richardson, told the Miami Herald.
The neighbourhood has been plagued by violence and shootings. Last April, a gunman opened fire into a crowd outside a corner store, killing a woman and wounding two men.
One resident, Jose Hernandez, told the Associated Press news agency gun violence is an almost daily occurrence in the area.
"I have friends who have been killed," Mr Hernandez said. "This violence has to change."
But Tuesday's shooting was one of the worst in the city's history, the Miami Herald reports.