Seventeen dogs die in Arizona Green Acre kennel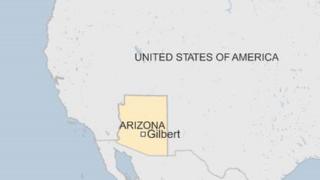 Seventeen dogs have died in an Arizona pet boarding facility from apparent heat exhaustion after an air conditioner failed, local media report.
Investigators suspect the dogs chewed through an electrical wire, cutting power to the ventilation system, the Maricopa County Sheriff's Office said.
The facility owners told the Arizona Republic they were "heartbroken".
But one of the owners admitted he initially told the owners their dogs were missing, not dead.
"I wasn't thinking straight, but I should have thought better than that," Todd Hughes, who was away from the facility at the time, said. "Nobody trained me on how to handle this. I made a bad decision. It was terrible."
The dogs were left at 23:00 local time on Thursday night by workers at Green Acre boarding facility in Gilbert, Arizona, near Phoenix. They returned at 05:30 the next morning to find the dogs either dead or close to death.
Workers sprayed the living dogs with cool water outside, but 17 in total died and were piled in a shed, Chris Hegstrom, spokesman for the sheriff's office said.
The owners, Todd and MaLeisa Hughes, returned later that evening from a trip and began calling dog owners on Saturday.
The Hughes have not been charged, but Mr Hegstrom told a local broadcaster the investigation would continue.
A Facebook page about the deceased dogs has already garnered more than 6,000 likes, and includes a petition to prosecute the owners.
"It wasn't [a tragic accident]," one of the dog owners told CBS. "It was an act of negligence, completely."