US House approves limits on NSA snooping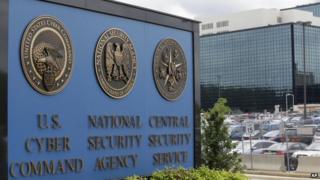 Members of the US House of Representatives banded together in a cross-party vote to pass legislation that would curb electronic snooping.
The measure would bar the National Security Agency (NSA) from collecting Americans' personal online information without a warrant.
It was added on Thursday night to a $570bn (£335bn) defence spending bill.
The move follows revelations the NSA mass harvested data on telephone calls and snooped on foreign leaders.
"The American people are sick of being spied on," Congressman Thomas Massie, the amendment's sponsor, said.
The amendment, added to the defence bill in a 293-123 vote on Thursday, also prohibits the NSA and CIA from accessing commercial technology products, which some politicians have described as a government "backdoor" for snooping.
Leaked documents provided to the Guardian newspaper indicate the NSA intercepted computer network devices such as routers and servers and embedded them with backdoor surveillance tools.
They were then sent to customers around the world.
Technology companies including Google were part of a coalition which urged support for the House provision.
Secret document trove
Earlier this year the House passed the USA Freedom Act that would limit the NSA's bulk data collection and storage of some American landline telephone call records.
But some members of Congress complained that legislation was not strict enough.
The House is expected to pass the defence bill on Friday. But the fate of the spying curbs is unclear, as they have yet to be written into the Senate version of the defence spending bill.
Congress has attempted to restrict government surveillance after revelations last year by fugitive US intelligence leaker Edward Snowden showed widespread snooping.
Last year, Mr Snowden - a former NSA contractor - fed a trove of secret NSA documents to news outlets including the Washington Post and the Guardian.
Among other things, the leaks detailed the NSA's practice of harvesting data on millions of telephone calls made in the US and around the world, and revealed the agency had snooped on foreign leaders.
The revelations have sparked a debate in the US over the appropriate role of the NSA and the extent to which it should be authorised to conduct such broad surveillance.
President Barack Obama has asked Congress to rein in the programme by barring the NSA from storing phone call data on its own and requiring it to seek a court order to access telecom companies' records.
Mr Snowden, meanwhile, fled the US in May 2013 and has been living under temporary asylum in Russia.