One priest killed and one wounded in Arizona church attack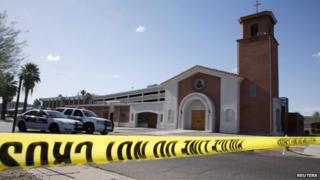 A priest has been shot and killed and another badly wounded in an attack on a Roman Catholic church in the US state of Arizona.
The Reverend Kenneth Walker, 28, was killed on Wednesday night in Phoenix.
The Reverend Joseph Terra, 56, was taken to hospital after administering Last Rites to Father Walker.
A car belonging to Father Walker was found abandoned several blocks from the church, as police continue to search for suspects.
'Great loss'
In a Thursday news conference, Phoenix Police Chief Daniel Garcia said the attack was a "tragic and appalling criminal violation".
About 21:00 local time on Wednesday, Father Terra called authorities to report a burglary at the Mother of Mercy Mission.
Police later said Reverend Terra was physically harmed but not shot or stabbed, local media report.
He is in a critical but stable condition in hospital, Phoenix police Sgt Steve Martos said.
Both men lived at the church and belonged to the Priestly Fraternity of St Peter.
"The tragedy that occurred last night at the Mother of Mercy Mission church strikes at our core because every American should feel safe in a house of worship," Phoenix Mayor Greg Stanton said.
"That basic value was violated last night in an unspeakable way."
Church parishioner Kirsten Duarte told the Arizona Republic that Father Walker was a "very kind, very sweet" man.
"It's a great loss for the community."