Romanian hacker 'Guccifer' indicted in Virginia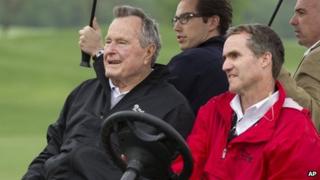 A Romanian hacker has been indicted in Virginia on charges he accessed computer accounts of several senior US government officials.
Marcel Lazar, known as Guccifer, faces charges including cyber stalking and aggravated identify theft.
He is accused of hacking into the Facebook and email accounts of former cabinet members and senior military officers, among others.
Mr Lazar has been jailed in Romania, according to media reports.
The names of the alleged victims have not been disclosed in court documents.
Personal details
In the US, Mr Lazar has been linked to the theft of personal emails and photographs belonging to former US President George H W Bush, 90, and his family.
One photograph posted on the internet in 2013 showed the retired Republican in bed in hospital, where he was being treated for bronchitis.
Those stolen emails were reported to include addresses and personal details of several members of the Bush family, as well as a personal note sent by President Barack Obama through an aide.
Among the purloined photos were pictures of former President George W Bush, one showing him posing beside a life-size cardboard cutout of himself with a moustache drawn on it and others showing paintings by him, including self-portraits.
At the time, The Smoking Gun said it had been in contact with Guccifer.
He said he had taken "a lot of stuff" including "interesting mails" about the former president's time in hospital, the website reported.