Exam reveals President Obama in excellent health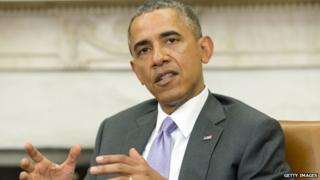 US President Barack Obama is in excellent health, the White House doctor has said following a physical examination last month.
Dr Ronny Jackson said the president, 52, eats a healthful diet, exercises daily, is tobacco-free, and drinks alcohol "in moderation".
The former smoker occasionally chews nicotine gum and takes ibuprofen to treat intermittent foot pain.
"The president's overall health is excellent," Dr Jackson wrote in a memo.
"All clinical data indicates that the president is currently healthy and that he will remain so for the duration of his presidency."
Mr Obama, an enthusiastic basketball player, has recurrent plantar fasciitis of the right food and several benign skin tags on his neck, Dr Jackson reported in his memo to White House press secretary Jay Carney.
He also takes Vitamin D to treat a mild deficiency, the doctor wrote.
The physical was the president's third since taking office. The last was in October 2011.