US Senate passes veterans health package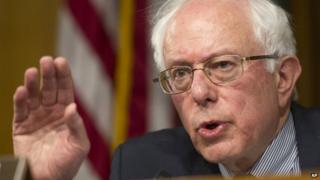 The US Senate has passed a bill aimed at addressing the problems that have engulfed the nation's overwhelmed veterans healthcare system.
The bill would allow former soldiers enduring long waits for care to seek medical help from private providers and other government healthcare programmes.
A similar bill passed the Republican-led House on Tuesday.
A scandal involving falsified records led to the resignation of Veterans Secretary Eric Shinseki last month.
President Barack Obama has backed the Senate bill, which passed 93-3.
"The cost of war does not end when the last shots are fired and the last missiles are launched," Senate veterans affairs committee chairman Bernie Sanders told US media.
"The cost of war continues until the last veteran receives the care and the benefits that he or she is entitled to and has earned on the battlefield."
Criminal investigation
The Senate bill, sponsored by Mr Sanders, an independent, and Republican Senator John McCain, would authorise nearly $35bn (£21bn) in funding over three years for veterans' care.
Among the most important provisions is a measure that would enable veterans to seek treatment from healthcare providers outside the Department of Veterans Affairs (VA) system for the next two years.
The legislation also calls for the hiring of hundreds of doctors and nurses and provides for leases for 26 new health facilities in 17 states and the US territory of Puerto Rico.
A recent VA audit revealed more than 57,000 veterans had to wait three months or more for initial healthcare appointments.
An additional 64,000 veterans who requested appointments over the last 10 years never received them.
Meanwhile, the Federal Bureau of Investigation has initiated a criminal investigation of the VA.
It comes after a national uproar over allegations in April that as many as 40 veterans may have died while waiting an average of 115 days for appointments at a Phoenix VA hospital or its walk-in clinics.
Since then, investigators have found long wait times and falsified records at other VA facilities nationwide.
Veterans Affairs chief Eric Shinseki resigned in late May amid the scandal, after a damning internal VA investigation uncovered "systemic" problems in delivering care to veterans across the country.