Northern Gateway and the fight for Canada's 'soul'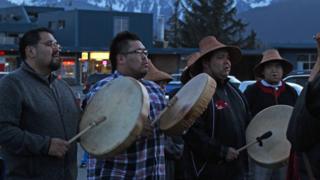 Is a pipeline that provides Canadian oil with a smooth route to the Pacific the key to Canada's economic future, or is it a dangerous break with the country's past? The BBC reports from three places where the dispute is keenly felt.
1. Kitimat
In the middle of the unusually calm Douglas Channel, Gerald Amos hauled a trap into his boat. The crabs snapped as he threw them into a bucket, his young granddaughters squealing in delight.
The waters around Kitimat in north-west British Columbia are teeming with wildlife. It's what the Haisla, one of Canada's aboriginal peoples, or First Nations, rely on.
Moments later Mr Amos' son appeared with a freshly killed and dressed seal sprawled on his motorboat's deck.
"Lift the seal up so we can see its face, Daddy!" one of the children demanded.
Murray Minchin, from Douglas Channel Watch, a local environmental group, had also brought his family along.
Mr Minchin and Mr Amos were celebrating - they spearheaded the campaign in Kitimat against a controversial pipeline project called Northern Gateway. The day before, Kitimat's residents had voted against supporting the proposal.
Everything felt different about Kitimat now, they said. After a hard-fought campaign, said Mr Minchin, "now we know.
"Of course," Mr Minchin added, grinning, "the alternative would have been lousy."
If Northern Gateway goes ahead, oil tankers will ply the waters of the Channel alongside the crabs and seals. Mr Minchin and Mr Amos fear an accident like the Exxon Valdez, which could destroy local wildlife and the Haisla's ancient culture.
First proposed in 2006, Northern Gateway would involve two 1,177km pipelines running from just outside Edmonton, in the neighbouring province of Alberta, to Kitimat. One would bring diluted bitumen from Alberta's oil sands region to be loaded on to tankers. The other would take condensate, used to dilute the crude, in the other direction.
Canada has the world's third-largest oil reserves, but they're landlocked. Although Northern Gateway is expected to cost nearly 8bn Canadian dollars (£4.4bn), the Canadian company which proposed the pipeline, Enbridge, says it could grow the Canadian GDP by C$300bn over the next 30 years by giving the oil sands a route to the sea.
In December 2013, a review panel appointed by an organisation known as the National Energy Board recommended that the government approve the project, saying: "Canada and Canadians would be better off with the Enbridge Northern Gateway project than without it."
Despite that recommendation, Kitimat remained divided, so the council held a plebiscite to gauge public opinion. When the votes were tallied, 58% opposed the pipeline.
The vote has no legal weight. Prime Minister Stephen Harper will make the ultimate decision whether the project can go ahead, and will announce it on 17 June.
Many in Kitimat hope Northern Gateway happens because of the nearly 200 jobs it would bring. Donnie van Dyk, Enbridge's local representative, said those jobs would be "long-term, stable and family-supporting" and in addition would create spinoff employment around the town.
That argument swayed Liz McDonald to vote yes.
"If Kitimat's going to grow, or maintain a stable base, then a lot of our attitudes have to change," she said.
Holding office hours in the local coffee shop was one of Northern Gateway's most vocal critics and Kitimat's local member of parliament, Nathan Cullen.
"In the simplest of terms, it's a question of risk and benefit," he said. He didn't trust Enbridge, particularly after a 2010 spill from one of their pipelines into the Kalamazoo River in the US, the largest inland oil spill in US history.
Kitimat is just one small town on the pipeline route. But the debate there is a microcosm of a wider debate: to what extent should economic growth and the development of natural resources be prioritised over protection of the environment and traditional ways of life?
On one side are the governing Conservative party, who are keen to use the oil sands as the engine of Canada's economic growth.
In 2012 Cabinet minister Joe Oliver sent an open letter to the Globe & Mail newspaper, in which he described Northern Gateway as an "historic choice", and accused the pipeline's opponents of having a "radical ideological agenda".
Mr Oliver's comments are still brought up angrily by opponents today. They range from First Nation groups, to environmentalists, to labour unions who say pipelines just ship jobs overseas.
Northern Gateway "has become a battle for the soul of Canada", says George Hoberg, a professor of environmental policy at the University of British Columbia.
2. Edmonton
"This'll be Mile Zero of the Enbridge Northern Pipeline," said Neil Shelly, pointing to a field, empty except for a few bare trees and the snow that blanketed the ground even in late April.
"Nothing really dramatic. They'll level the land, build the tanks."
Mr Shelly runs Alberta's Industrial Heartland, an area around Edmonton which is now the largest hydrocarbon processing region in Canada. From "Upgrader Alley" to "Refinery Row", it's a far cry from Kitimat's snow-capped peaks and lush forests.
Here, flat prairie is punctuated by mile after mile of gargantuan oil tanks and metal chimneys belching out steam.
Edmonton is the nearest city to Fort McMurray, the heart of the oil sands. Twenty-five thousand people work in the Heartland, for companies like Enbridge and Dow Chemical. It has billions of dollars in planned investments and has become a crucial part of the oil sands "value chain".
Western Canada uses only 600,000 barrels of oil a day. The oil sands produce almost three million barrels daily, and that's expected to double within a decade.
Nearly all Canada's crude currently goes south to the US, and bottlenecks at rail yards like those in the Heartland cause delivery delays.
The Canadian Chamber of Commerce estimates this costs the economy as much as C$50m each day.
To add to the difficulties, demand from the US is falling as it develops its own resources. Prime Minister Harper has raised fears that Canada has become a "captive supplier".
The most lucrative market for the oil sands' expansion would be Asia, and Chinese companies have made significant investments in Fort McMurray and Northern Gateway. A pipeline to the Pacific could transport large volumes of crude to Asia quickly and profitably.
As Enbridge's Donnie van Dyk put it: "It makes their projects more viable, it allows more to be built and completed, and increases the overall feasibility of many of our natural resource projects - and ultimately employs several more Canadians."
If the pipeline is not built, Neil Shelly said, it raises questions about further development in Fort McMurray, and for all of the refineries and supporting businesses setting up shop in Alberta.
"All of it," he said, "couldn't happen without that connection."
3. Fort St James
In colonial days Fort St James was an important fur-trading post where settlers clashed with local aboriginal peoples. Driving into the town one gets a sense of the same conflict re-emerging. A supermarket billboard is draped in a banner reading "Enbridge Not Welcome".
On a basketball court a line of elders performed a slow shuffling dance to the thump of drums. Their arrival marked the formal beginning of the day's gathering by the Yinka Dene Alliance, a group of six First Nation clans - Nak'azdli, Nadleh Whut'en, Tl'azt'en, Wet'suwet'en, Saik'uz and Takla Lake - united in their opposition to Northern Gateway.
Today they had invited government representatives to Nak'azdli territory to hear them out. Civil servants from the Canadian Environmental Assessment Agency and others sat quietly at the front of the hall as speakers took the microphone.
The building was named after an influential Nak'azdli leader. Much of the testimony drew on his memory.
"Chief Kwah had strong connections to the land," said a schoolchild. "We are here today to protect that. We are his future. I say no to Enbridge."
Most families still live off the land, and the gathering's feast portion was a powerful reminder of that. Foil platters of moose burgers and freshly smoked salmon covered the tables.
Everyone talked of the devastating impact something like the Kalamazoo River spill would have on their community. Their important salmon stocks were already dwindling.
"Any environmental disaster in this area would literally end our ability to sustain ourselves on the land," said Peter Erickson, the Nak'azdli hereditary chief.
After lunch, Mr Erickson took the microphone to preside over the potlatch ceremony, which would cement their opposition to Northern Gateway under traditional law.
"I want to hire these people," he told the hall, gesturing at the slightly alarmed government delegation. "I want to pay them to take a message to Harper."
Within minutes a line snaked around the hall of clan members giving what they could, from C$5-C$50 to a canoe paddle. The total came to over C$900. Four hundred of that, said Erickson, would be given to the government representatives to take the Alliance's decision to Ottawa.
C$512 - and, of course, the canoe paddle - would be presented to Prime Minister Harper.
"This is official note to the federal government that under no circumstances is any pipeline, including Enbridge, going to be allowed on our territory," Mr Erickson announced. "And that's the final verdict."
Most of British Columbia's First Nations have never signed treaties with the government, leaving the ownership of their land disputed. The Supreme Court ruled in 2004 that in such cases the government must consult with First Nations on anything affecting their territory.
Many First Nations - including the Yinka Dene Alliance - do not believe this consultation has taken place. Several have filed lawsuits seeking to delay the approval process.
Enbridge has tried to win First Nations support for Northern Gateway. Ten percent of the equity has been reserved for them, as well as a number of construction jobs. That offer has enticed some. Enbridge claim to have the support of a majority of First Nations along the pipeline route. None have publicly admitted their backing.
Advertising highlights Northern Gateway's extensive safety procedures, from thicker pipelines to constant monitoring. The review panel said that a large spill on the route was therefore "not likely", and that the project "would not significantly adversely affect the interests of Aboriginal groups".
It seems unlikely that Enbridge can change many minds before June, although Donnie van Dyk said the company was trying to "build trust and see if there's a way we can work together to get this pipeline built".
First Nations from the Nak'azdli in Fort St James to the Haisla in Kitimat have promised they will physically stop the pipeline's construction if the government approves it.
When it comes down to it, said Peter Erickson, the decision of the Yinka Dene Alliance is binding. The name for the gathering was "Awetza, Lhts Uduja". Translated into English, it's definitive: "That's it, that's all, that's the law."