Senator Ted Cruz renounces Canada citizenship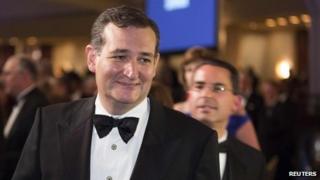 Republican US Senator Ted Cruz of Texas has renounced his Canadian citizenship, an aide has said.
Mr Cruz, 43, was born in Calgary to an American mother and Cuban exile father.
"Being a US senator representing Texas, it makes sense he should be only an American citizen," aide Catherine Frazier told the Associated Press.
A favourite of the conservative Tea Party movement, Mr Cruz is seen as a prospect for the Republican Party's 2016 presidential nomination.
Ms Frazier provided to the Associated Press a copy of a Canadian document certifying that the senator had "formally renounced Canadian citizenship and pursuant to the Citizenship Act will cease to be a citizen."
Mr Cruz was elected in 2012 and has become a hero among hard-right conservative Republicans who fiercely oppose Democratic President Barack Obama's agenda, including his proposal to establish a path to US citizenship for undocumented immigrants.
In August, the Dallas Morning News reported Mr Cruz was a Canadian citizen by virtue of his birth in Canada.
Mr Cruz, whose birth to an American woman conferred automatic US citizenship and eligibility for the White House, said he had been unaware he was also a citizen of America's neighbour to the north.