US 'mountain man' Troy James Knapp jailed in Utah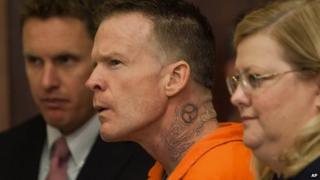 A survivalist known as the "mountain man" who evaded police in the US state of Utah for six years has been jailed for more than 10 years.
Troy James Knapp, 46, roamed hundreds of miles across the state, breaking into remote cabins and stealing firearms and food.
He was captured in April 2013 after a shoot-out at a cabin on Ferron Mountain, south of Salt Lake City.
He admitted several charges including burglary and a firearms offence.
Knapp had been likened by some to 19th-century US frontiersman Davy Crockett for his outdoor skills and hardiness.
Defence lawyer Jay Winward told the court in St George, Utah: "There is an admiration for somebody who chooses to live off the land, because he does it while the rest of us wouldn't. Even if he needs a little help from some cabin owners."
But prosecutor Brody Keisel said Knapp was nothing more than "a common crook" who survived on easy pickings from cabin break-ins.
Police had been investigating a spate of cabin burglaries before identifying Knapp in 2012 from surveillance photos and fingerprints on a whiskey bottle.
Assistant US Attorney Matthew Bell said Knapp had helped authorities to find all 16 weapons he had hidden in four locations in four different counties. They included 13 handguns, two rifles and one shotgun.
In a plea-bargaining agreement, Knapp was sentenced in a federal court to 10 and a half years for using a firearm during a violent crime.
Shortly afterwards in a district court, he was sentenced to one to 15 years in prison for each of 10 burglary charges, all to be served concurrently with the federal court sentence.