CIA launches Twitter and Facebook accounts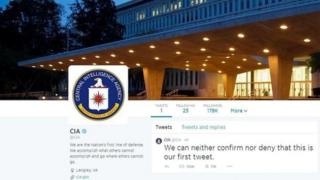 The United States Central Intelligence Agency, the CIA, has opened its first official accounts on Twitter and Facebook, it announced on Friday.
The spy agency said it would help it to engage more directly with the public and make unclassified information on the agency "more accessible".
"We can neither confirm nor deny that this is our first tweet," the spy agency quipped in its first tweet.
Within five hours, it had already generated more than 200,000 followers.
Twittersphere frenzy
The agency confirmed the news of its launch on the social networking sites in a press release on Friday.
"By expanding to these platforms, CIA will be able to more directly engage with the public and provide information on CIA's mission, history, and other developments," said CIA Director John Brennan.
Followers can also look forward to images posted of artefacts on display at the CIA's museum, which is not open to the public, as well as updates to its "World Factbook" - a database of world leaders and maps.
The infamous response to journalists' queries cited in the CIA's first tweet reveals the agency's sense of humour, sending the international Twittersphere into an utter frenzy, the BBC's Aleem Maqbool says.
Some of the many followers dared the CIA to "follow" Angela Merkel after Germany opened an investigation into the hacking of her phone by US spies, he continues, while others have simply asked for help recovering their lost email passwords.
The New York Review of Books reacted to the launch of the CIA's Twitter account by tweeting links to articles about CIA interrogation methods for "high-value detainees" held in the years since the 9/11 attacks.
The agency managed to secure its @CIA Twitter handle after filing a complaint with Twitter about someone who was impersonating the agency, the CIA's K Jordan Caldwell told the BBC.
On both of its Twitter and Facebook profiles, the CIA's tag line reads: "We are the Nation's first line of defence. We accomplish what others cannot accomplish and go where others cannot go."